Events News
13th November 2017: Flashdance The Musical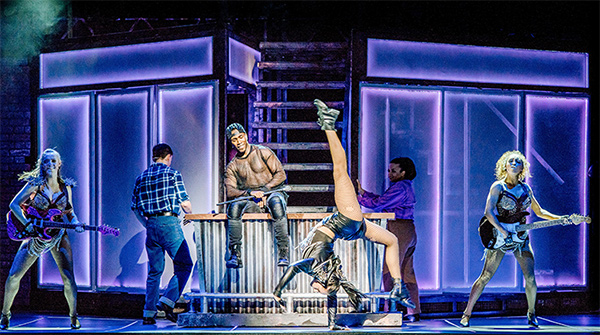 What a feeling! It's like being back in the eighties with flashing neon lights, leg warmers and big hair.
Flashdance tells the story, familiar to many from the 1983 film, of 18 year old Alex, a welder by day and flashdancer by night, who dreams of going to the prestigious Shipley Dance Academy and becoming a professional dancer. When a romance complicates her ambitions, she harnesses it to drive her dream.
We know Joanne Clifton can dance from her days on Scrictly Come Dancing, in this she proves she can turn out a decent musical theatre song as well. Her co-star, Ben Adams from boy band A1, sings beautifully and moves pretty well too, and they are perfectly matched in their duets.
Add some good support performances, some incredible dance routines and a simple but effective set and you have a pretty good show. For fans of musical theatre, or dance, or Joanne Clifton it's worth a visit; they'll have you on your feet at the end!
Extra Information
Flashdance can be seen at the Assembly Hall until Saturday 18th December including matinees on Wednesday and Saturday.
Tickets from £15 to £39.
A Selladoor Prodcution, directed by Hannah Chissick, chreography by Matthew Cole.
30th October 2017: The Best of November
The best of November's entertainment picked by Dave Barnett of tunbridgewellsevents.co.uk.
A new exhibition starts at Tunbridge Wells Museum and Art Gallery on 3rd November. This celebration of the work of British pop artist Eduardo Paolozzi is titled General Dynamic F.U.N. and runs to late January. There are related events taking place so check their website for details.
Tom Carradine's Cockney Sing-a-long moves to a Friday for November (10th). If you've not been before: grab a few friends; roll out the barrel; and prepare for a fun night singing along to all those songs you didn't know you knew. You'll leave Scallywags with a smile on your face.
Flashdance the Musical bursts on to stage at the Assembly Hall from the 13th. Starring ex-Strictly dancer Joanne Clifton in the lead role and Ben Adams from boy band A1 as the love interest, the standard should be good. What a feeling, catch it while you can...
My pick of Forum events is Rews, a 'high energy alterna-rock pop female duo'. On tour to support the release of their debut album, they hit Tunbridge Wells on Thursday the 23rd.
By the end of the month the run up to Christmas has well and truly started. Treat yourself to an early present at the Assembly Hall on Wednesday the 29th where the festive classic The Nutcracker by Tchaikovsky is performed by the Russian State Ballet.
See on Screen
Stephen Sondheim's legendary musical Follies is staged for the first time at the National Theatre and broadcast live to cinemas (various venues on 16th, Trinity on 24th).
New York, 1971. There's a party on the stage of the Weismann Theatre. Tomorrow the iconic building will be demolished. Thirty years after their final performance, the Follies girls gather to have a few drinks, sing a few songs and lie about themselves.
Tracie Bennett, Janie Dee and Imelda Staunton play the magnificent Follies in this dazzling new production.
3rd October 2017: The Best of October
Here's my pick of Ocober events as published in the Support Local magazine, it only covers 5 out of over 280 events featured on the site so please look around for information about all events in and around Tunbridge Wells.
There's an autumnal feel in the air, trees are changing colour, nights are drawing in and my apples are unbelievable. Which brings me to my first event; The Friends of Grosvenor and Hilbert Park are holding their annual Apple Day (21st from 10.30 am). At the event, held near the oast, you can press your own or the Friends apples, with related activities, games and refreshments. Remember to bring a bottle or two as the fresh juice is delicious.
If you saw Joey from Warhorse when he visited the town in 2015, you, like me, will have been looking forward to the return of the Puppet Festival. It's back on 13/14th at venues across the town. There's plenty to entertain everyone including a day of free entertainment on the Pantiles and a Lion King exhibition at Trinity.
It's the time of the year when Strictly Fever grips the nation. On the 18th you can see past winners Lewis Smith and Jay McGuiness at the Assembly Hall with pro Natalie Lowe in a 50's song & dance extravaganza 'Rip It Up'. A perfect mid-week fix of glamour and glitter.
October half term coincides with the run up to Halloween so head to Groombridge Place where there's plenty of room to explore together with some interactive and frightening stories from the Skeleton Crew shipwrecked in the Enchanted Forest. Then at 6pm Scarefest starts; dare you venture into the dark forest...
See on Screen
My Culture Screening pick for October is the Royal Ballet's production of Alice's Adventures in Wonderland (23rd various locations including Trinity & the Odeon).
At a garden party on a sunny afternoon, Alice is surprised to see her parents' friend Lewis Carroll transform into a white rabbit. When she follows him down a rabbit hole events become curiouser and curiouser…
Witness an explosion of colour, magic, eye-popping design and sophisticated choreography in this colourful adventure for the whole family.