About Tunbridge Wells Events
Tunbridge Wells Events has been created to provide a service to Royal Tunbridge Wells. The content is being gathered from a variety of public sources and from privately submitted requests. Additional functions will be added as they are identified and can be resourced.
Our current intention is to include any event (within reason) in Tunbridge Wells and the surrounding area as we become aware of them. So if you know of anything that should be included here please let us know by completing the contact form.
Recommended Event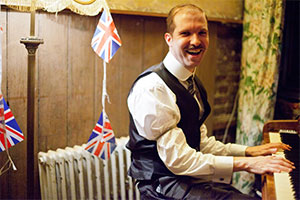 Carradine's Cockney Singalong
Scallywag Cafe - Fri 16th March
Event News
The Best of February
The Forum continue their 25th anniversary celebrations with more excellent bands including, this month, BBC Sound of 2018 nominee Pale Waves. Perhaps closer to their roots they are hosting a series of gigs under The Stable banner. Each event gives four local acts a chance to perform on the stage of one of the South East's premier live music venues, why not check them out you might just get to see some stars of the future.
For more details of this here
twitter feed