Events News
1st December 2017: Best of December
Last year the Forum organised some free music sessions at the Calverley Grounds Ice Rink on Thursday evenings. They were so successful that this year Sunday afternoons have been added to the schedule; they've already started and continues to the 17th December.
You may not be aware that there's a drive-in cinema at the Hop Farm. Through December they're showing eleven classic Christmas films including: It's A Wonderful Life, Elf, Polar Express and Love Actually. Most are only showing once or twice so check the Moonlight Drive-in website for full details.
Had enough of Panto but still fancy a Christmas show? Well, click your heels and head over the rainbow to Trinity where this year the RSC's version of The Wizard of Oz is being staged. As always ably directed by John Martin with an impressive cast, Dorothy will be in residence most days from 14th December.
If you want a change from Christmas jingles and schmaltzy tunes you might want to head to Scallywag Cafe on the 23rd where renowned jazz singer Lianne Carroll will be performing. A great way to end this year's impressive and diverse performances at this interesting little cafe on Mt Ephraim.
And what better way to round off the year than a visit to the Pantiles for the very popular Hug-many. Now in it's third year it's becoming the place to be seen as live bands, DJs, a piper and a fantastic firework display welcomes 2018.
See on Screen
On Christmas Eve, Marie's wooden nutcracker doll is transformed into a beautiful prince who takes her on a magical journey. Before they leave, they must confront the Mouse King, whose army is threatening Marie...
The Royal Ballet's production of the Nutcracker, featuring the music of Tchaikovsky, streams to various screens in the area including Trinity, the Odeon and further afield in Hawkhurst and Uckfield. Screening from 5th December plus repeats.
Can't get enough, then there's also a Bolshoi version of this iconic Christmas ballet streaming from Moscow on the 3rd at the Odeon.
13th November 2017: Flashdance The Musical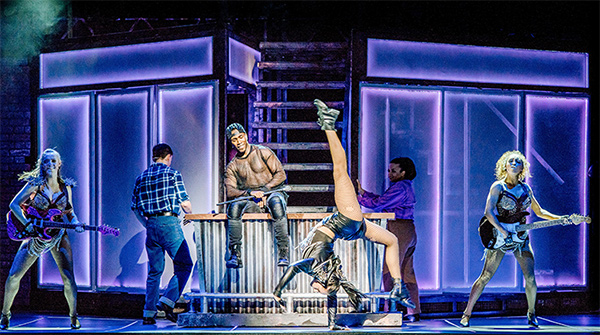 What a feeling! It's like being back in the eighties with flashing neon lights, leg warmers and big hair.
Flashdance tells the story, familiar to many from the 1983 film, of 18 year old Alex, a welder by day and flashdancer by night, who dreams of going to the prestigious Shipley Dance Academy and becoming a professional dancer. When a romance complicates her ambitions, she harnesses it to drive her dream.
We know Joanne Clifton can dance from her days on Scrictly Come Dancing, in this she proves she can turn out a decent musical theatre song as well. Her co-star, Ben Adams from boy band A1, sings beautifully and moves pretty well too, and they are perfectly matched in their duets.
Add some good support performances, some incredible dance routines and a simple but effective set and you have a pretty good show. For fans of musical theatre, or dance, or Joanne Clifton it's worth a visit; they'll have you on your feet at the end!
Extra Information
Flashdance can be seen at the Assembly Hall until Saturday 18th December including matinees on Wednesday and Saturday.
Tickets from £15 to £39.
A Selladoor Prodcution, directed by Hannah Chissick, chreography by Matthew Cole.
30th October 2017: The Best of November
The best of November's entertainment picked by Dave Barnett of tunbridgewellsevents.co.uk.
A new exhibition starts at Tunbridge Wells Museum and Art Gallery on 3rd November. This celebration of the work of British pop artist Eduardo Paolozzi is titled General Dynamic F.U.N. and runs to late January. There are related events taking place so check their website for details.
Tom Carradine's Cockney Sing-a-long moves to a Friday for November (10th). If you've not been before: grab a few friends; roll out the barrel; and prepare for a fun night singing along to all those songs you didn't know you knew. You'll leave Scallywags with a smile on your face.
Flashdance the Musical bursts on to stage at the Assembly Hall from the 13th. Starring ex-Strictly dancer Joanne Clifton in the lead role and Ben Adams from boy band A1 as the love interest, the standard should be good. What a feeling, catch it while you can...
My pick of Forum events is Rews, a 'high energy alterna-rock pop female duo'. On tour to support the release of their debut album, they hit Tunbridge Wells on Thursday the 23rd.
By the end of the month the run up to Christmas has well and truly started. Treat yourself to an early present at the Assembly Hall on Wednesday the 29th where the festive classic The Nutcracker by Tchaikovsky is performed by the Russian State Ballet.
See on Screen
Stephen Sondheim's legendary musical Follies is staged for the first time at the National Theatre and broadcast live to cinemas (various venues on 16th, Trinity on 24th).
New York, 1971. There's a party on the stage of the Weismann Theatre. Tomorrow the iconic building will be demolished. Thirty years after their final performance, the Follies girls gather to have a few drinks, sing a few songs and lie about themselves.
Tracie Bennett, Janie Dee and Imelda Staunton play the magnificent Follies in this dazzling new production.