16th October 2017: Goodbye Christopher Robin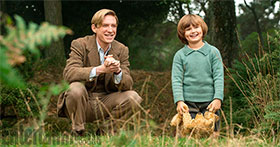 A friend of mine recently saw 'Goodbye Christopher Robin', it triggered some memories for him; this is what he thought!
It does not really matter how old you are, as if you are alive you will have probably heard of Pooh Bear and Christopher Robin sometime during your life.
Christopher Robin was the son of A.A.Milne (Alan) and Daphne Milne. One of their homes was at Cotchford Farm, Hartfield near Tunbridge Wells. The film – 'Goodbye Christopher Robin' tells the story of how the fictitious character Pooh Bear was created and what it meant to A.A. Milne's son – Christopher Robin.
The film is an "emotional roller-coaster" from start to finish and obviously features all of the favorite places and characters mentioned in A.A.Milne's books about Pooh Bear. It really is quite an eye opener in to the real story behind what happened to Christopher Robin due to his father's success as a writer. It is very sad in places and thought provoking.
The film is rated as a PG so is obviously not really aimed at children under the age of 12.
It is very well acted and some of the shots obviously filmed at Ashdown Forrest and surrounding areas are outstanding.
I saw this film with special interest, as when I was about 9 years old I was fortunate enough to visit Cotchford Farm with my father. My father was a radio and television engineer and worked for a local company called Featherstone's in Tunbridge Wells. He had been tasked with repairing Mrs. Milne's TV. This was about 1962. Christopher Robin was not living there at the time and Daphne Milne and a lovely Housekeeper – Mrs. Wilson, occupied the house.
I can remember having to wait with Mrs. Wilson whilst my dad repaired the TV. The reason for this was that Mrs. Milne was not particularly fond of children!
Soon after my visit, Cotchford Farm was sold to an American couple, The Taylors and then was subsequently sold to a member of The Rolling Stones – Brian Jones who unfortunately drowned in the swimming pool in 1969. There have been several owners of Cotchford Farm since then and the idyllic Hartfield home of Christopher Robin has been sold for £1.8 million in the past few weeks.
The film is really worth watching and I am sure that many of you who have played "Pooh Sticks" will really relate to seeing this film.
Mel Wickenden - Tunbridge Wells (born & bred).
More Information
Rotton Tomatoes Rating: 63% - 'Goodbye Christopher Robin struggles to balance wartime tension and childlike wonder, but offers valuable insight into the darkness shadowing the creation of a classic children's tale.'
Goodbye Christopher Robin can currently be seen at the Odeon and comes to Trinity in November (14th).
3rd October 2017: October
Here's my pick of Ocober events as published in the Support Local magazine, it only covers 5 out of over 280 events featured on the site so please look around for information about all events in and around Tunbridge Wells.
There's an autumnal feel in the air, trees are changing colour, nights are drawing in and my apples are unbelievable. Which brings me to my first event; The Friends of Grosvenor and Hilbert Park are holding their annual Apple Day (21st from 10.30 am). At the event, held near the oast, you can press your own or the Friends apples, with related activities, games and refreshments. Remember to bring a bottle or two as the fresh juice is delicious.
If you saw Joey from Warhorse when he visited the town in 2015, you, like me, will have been looking forward to the return of the Puppet Festival. It's back on 13/14th at venues across the town. There's plenty to entertain everyone including a day of free entertainment on the Pantiles and a Lion King exhibition at Trinity.
It's the time of the year when Strictly Fever grips the nation. On the 18th you can see past winners Lewis Smith and Jay McGuiness at the Assembly Hall with pro Natalie Lowe in a 50's song & dance extravaganza 'Rip It Up'. A perfect mid-week fix of glamour and glitter.
October half term coincides with the run up to Halloween so head to Groombridge Place where there's plenty of room to explore together with some interactive and frightening stories from the Skeleton Crew shipwrecked in the Enchanted Forest. Then at 6pm Scarefest starts; dare you venture into the dark forest...
See on Screen
My Culture Screening pick for October is the Royal Ballet's production of Alice's Adventures in Wonderland (23rd various locations including Trinity & the Odeon).
At a garden party on a sunny afternoon, Alice is surprised to see her parents' friend Lewis Carroll transform into a white rabbit. When she follows him down a rabbit hole events become curiouser and curiouser…
Witness an explosion of colour, magic, eye-popping design and sophisticated choreography in this colourful adventure for the whole family.